Prime Minister Pushpa Kamal Dahal 'Prachanda' recently said that he is preparing to ride a hydrogen vehicle. He expressed this inaugurating a hydropower plant the other day.
Energy professionals and experts have been dragged by the PM's statement whereas the country is preparing strong ground for electric vehicles. The EVs for individual and institution uses have made ground which can be acceptable for some more years to come providing the legal provisions and tax rules remain the same. On the other hand policies and provisions for EVs for public transportation are not favourable to vehicle importers and transport service providers. That means, a lot of tasks are still waiting to be accomplished to properly promote electric transportation so as fossil fuels import will be significantly reduced, vehicular air pollution to be lowered and consume electricity generated in the country through renewable resources. The climate change actions are also related to shift to electric mobility while hydrogen fuel to replace fossil fuels is also one of the measures to support climate actions as Nepal had committed in periodic development plans, energy white paper and in line with SDGs and Nationally Determined contributions.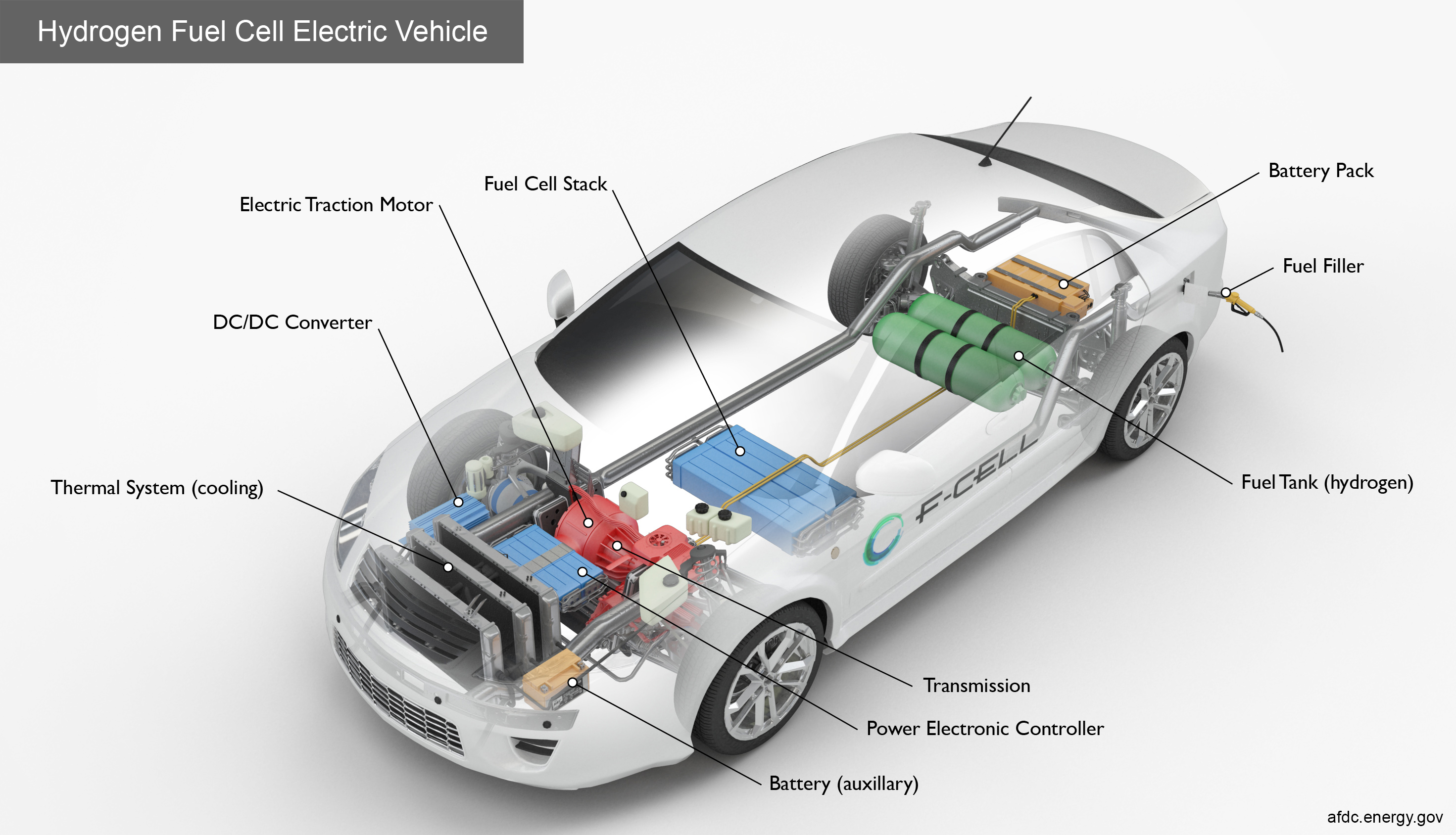 Concerning replace fossil fuels for transportation, as these are identified as one of the major contributors to the climate change effects, all nations are considering environmental safety and the regulation of pollution, motivating researchers across the world to find an alternate transportation fuel. The transition of the transportation sector towards sustainability for environmental safety can be achieved by the manifestation and commercialization of clean hydrogen fuel even at the time when electric mobility has been widely accepted technology to this effect.
Like all-electric-vehicles, fuel cell electric vehicles (FCEVs) use electricity to power an electric motor. In contrast to other electric vehicles, FCEVs produce electricity using a fuel cell powered by hydrogen, rather than drawing electricity from only a battery. During the vehicle design process, the vehicle manufacturer defines the power of the vehicle by the size of the electric motor(s) that receives electric power from the appropriately sized fuel cell and battery combination. Although automakers could design an FCEV with plug-in capabilities to charge the battery, most FCEVs these days use the battery for recapturing braking energy, providing extra power during short acceleration events, and to smooth out the power delivered from the fuel cell with the option to idle or turn off the fuel cell during low power needs. The amount of energy stored onboard is determined by the size of the hydrogen fuel tank. This is different from an all-electric vehicle, where the amount of power and energy available are both closely related to the battery's size.
That means, instead of being powered by electricity stored in a battery, hydrogen fuel cell electric vehicles produce their electricity through a chemical reaction between hydrogen and oxygen in a fuel cell stack. Refuelling their hydrogen tanks from a pump takes less than five minutes, and once on the road, you'll enjoy smooth zero tailpipe emission journeys.
Hydrogen is clean, safe and all around us. It's so common it makes up 70% of matter in the universe. This allows hydrogen to be locally sourced and, if made with renewable energy, it can be completely carbon free.
The hydrogen refuelling network is growing every year. Refuelling is safe, easy and as familiar as it is in a conventional car.
Hydrogen fuel for sustainable mobility has its own effectiveness in terms of its generation and refuelling processes. As the fuel requirement of vehicles cannot be anticipated because it depends on its utilization, choosing hydrogen refuelling and onboard generation can be a point of major concern. The advantages of onboard hydrogen generation and refuelling hydrogen for internal combustion are discussed. In terms of performance, affordability, and lifetime, onboard hydrogen-generating subsystems must compete with what automobile manufacturers and consumers have seen in modern vehicles to date. In internal combustion engines, hydrogen has various benefits in terms of combustive properties, but it needs a careful engine design to avoid anomalous combustion, which is a major difficulty with hydrogen engines. Automobile makers and buyers will not invest in fuel cell technology until the technologies that make up the various components of a fuel cell automobile have advanced to acceptable levels of cost, performance, reliability, durability, and safety. Above all, a substantial advancement in the fuel cell stack is required.
In some countries, hydrogen fuel car have been used and buses and trucks are also used. Moreover, airplanes are considered to fly by hydrogen fuel. China has been spending huge sum of money to develop hydrogen power system for mobility while India is also poring a huge fund for developing hydrogen for transportation. USA, Japan, Germany, South Korea are also conducting researches and experiments. So as Toyota, Hyundai and some other automakers are producing hydrogen run vehicles in a limited number. Moreover, India has announced that it will have hydrogen driven train in near future, likely in the current year.
In Nepal, study and research is going on for possibility of use of electricity to produce hydrogen fuel and use it to run vehicles, support chemical fertiliser industries, other industries and also to export green hydrogen fuel to other countries. Nepal Oil Corporation, Nepal Electricity Authority, alternative Energy Promotion Centre had provided financial support to KU for studies and research. Likewise, National Planning Commission, Ministry of Energy, Water Resources and Irrigation had assured policy supports.
"If the prime minister wants, he can run as many hydrogen cars as possible in four months", says Dr Biraj Singh Thapa, Associate Professor at Kathmandu University and Team Leader Hydrogen research team. "For this, his secretariat should take the initiative and invest in one of the government agencies," he adds. As given above, there is nothing to go against the PM's preparedness for a hydrogen run vehicle to ride. Cost of a single car suitable for the Prime Minister may not be a highly expensive but refuelling system to develop, hydrogen fuel to produce or import may be a matter of very high expenses. Although system developed will serve many other hydrogen fuel vehicles, therefore, the PM may be suggested to wait till a minimal infrastructure be made in the country for hydrogen fuel to produce smoothly and proper refuelling system to develop. For all such activities, the government has to open to allocate a suitable size of budget and full cooperation to private sector to commercialise the hydrogen fuel for transportation.