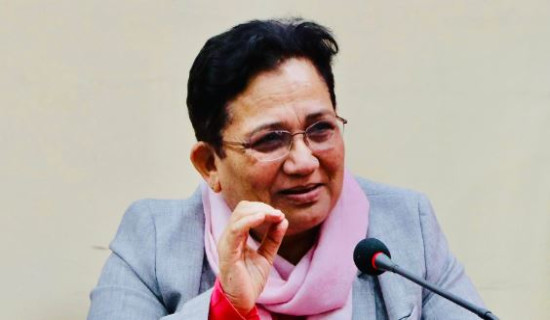 Minister of Energy, Water Resources and Irrigation Pampha Bhusal has claimed that the construction of Sunkoshi-Marin Diversion Multipurpose Project will be completed on time.
Interacting with the reporters during the on-site monitoring and inspection of the tunnel being dug by Tunnel Boring Machine (TBM) in Sindhuli's Kamalamai Municipality-2, Kusumtar from Friday, she said that the project would be completed on time and that there has been a significant technical progress at the project. "Sunkoshi-Marin Diversion Multipurpose Project will help a lot in reducing trade deficit that the country is experiencing. The agricultural production worth Rs. 26 billion rupees will be increased annually by providing irrigation facility in 122,000 hectares of land in Terai," said Minister Bhusal.
According to her, from the electricity produced from the project, an annual income of Rs. 1.55 billion will be generated. She termed the national pride project a 'milestone' plan from the point of view of economic development.
Minister Bhusal said that after the construction of the project, not only will a huge sum of money being spent on importing food from other countries be saved, but also employment opportunities contributing to economic prosperity of the people and the country will be created.
The contract for the construction of 13.3km long Sunkoshi-Marin Diversion tunnel has been awarded to a Chinese company China Overseas Engineering. According to the project, the tunnel will be dug within two years with the help of the TBM. Mitra Baral, the head of the project, informed that the company got the contract for about Rs. 11 billion.
According to him, after the completion of the platform, construction work in Kusumtar, tunnel digging has been started from Friday. The company has also got the contract for the construction of the tunnel of the Bheri-Babai Diversion Project. A tunnel of 6.6 diameters will be dug by the machine so that there will be water way of a 5.5 inches in diameter.
There is a plan to dig the tunnel within two years if the situation is favourable. After constructing a 12-meter high dam on the Sunkoshi River, the water of the river will be discharged through the tunnel at a rate of 67 cusecs of per second in the Marin River in Kamalamai Municipality-2 Kusumtar. The project will generate about 31.07MW electricity, which will be connected to Nawalpur substation under the national grid through two double circuit transmission lines.
The Rs. 46 billion project was started in the Fiscal Year 2021/22 and is expected to be completed by 2026/27.
The main objective of the multi-purpose project is to provide irrigation facilities in Bara, Rautahat, Sarlahi, Mahottari and Dhanusha districts of Terai along with electricity generation.
At present, the Bagmati Irrigation Project has provided irrigation facilities to about 45,600 hectares in its area and there is a plan to provide irrigation facilities to the remaining 122,000 hectares of land with the water of Sunkoshi.