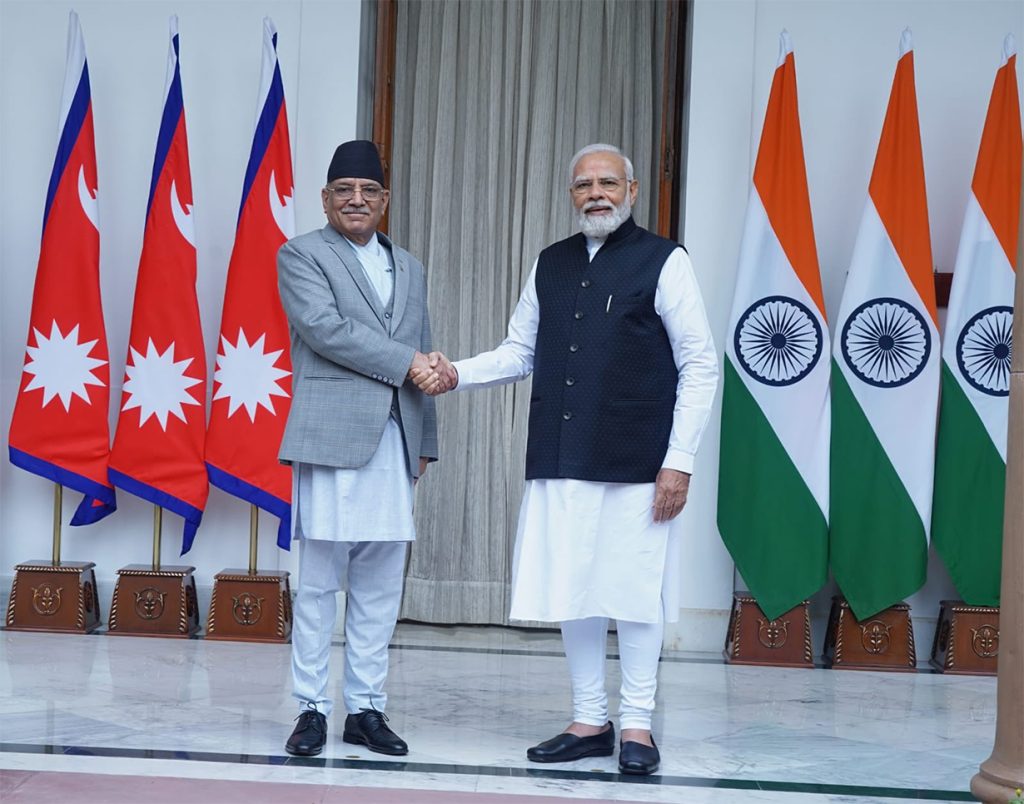 Prime Minister Pushpakamal Dahal "Prachanda" returned to Nepal Saturday evening on completion of the four day official visit to India. During the visit the Prime Minister called on the President and the Vice president of India. During the meetings, "we discussed matters relating to further deepening the centuries old close relations existing between Nepal and India in the days ahead," the Prime Minister said talking to reporters at the Tribhuvan International Airport.
"The bilateral meeting with Prime Minister Narendra Modi at the Hyderabad House was the most significant aspect of the visit," remarked Prachanda. "During the meeting the two leaders discussed about further strengthening cooperative relations existing in diverse areas of Nepal- India relations and also exchanged views," reads a statement issued at the Kathmandu airport.
The following six projects were virtually inaugurated or laid down foundation during the Prime Minister's visit to India
1) handing over of Kurtha-Bijalpur Railwayline, 2) Operation of Cargo railway between Jogbani, India and Biratnagar, Nepal, 3) Laying down of foundation of Bhairahawa- Sunauli Integrated Checkpost, 4) Inauguration of Nepalgunj- Rupaidiha Integrated Checkpost 5) Laying down of foundation of second phase of Motihari-Amlekhgunj Petroleum Pipeline construction, 6) Foundation lay down of BUtawal-Gorakhput 400 KVA trans-border transmission line.
The following seven documents were signed or exchanged:
1) Nepal – India Transit Treaty, 2) Memorandum of Understanding regarding construction of petroleum infrastructure 3) MoU relating to Dodhara- Chadani Integrated Check Post and Dry Port, 4) MoU of Fukot Karnali 480 MW hydropower project development, 5) 669 MW Lower Arun hydropower Development Project Agreement, 6) MoU relating to trans- national electronic payment between National Clearing House Ltd. Nepal and National Payment Company Ltd. India, and 7 ) MoU between Foreign Affairs Study Academy of Nepal and Sushma Sworaj Foreign Service Institution, India.
Prachanda accompanied by Foreign Minister N.P. Saud, Energy Minister Shakti Basnet, Minister for Industry and Commerce Ramesh Rijal and Finance Minister Prakash Sharan Mahat returned to Kathmandu on Saturday on completion of a four day official visit to India that kicked off on Wednesday.