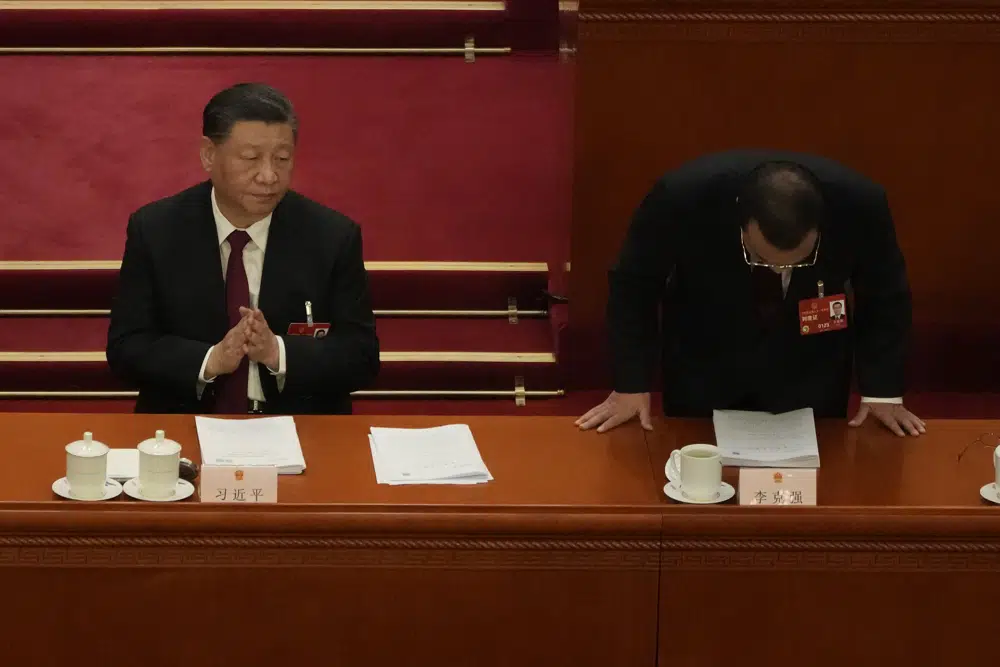 After a decade in Chinese President Xi Jinping's shadow, Li Keqiang is taking his final bow as the country's premier, marking a shift away from the skilled technocrats who have helped steer the world's second-biggest economy in favor of officials known mainly for their unquestioned loyalty to China's most powerful leader in recent period.
After exiting the ruling Communist Party's all-powerful Politburo Standing Committee in October — despite being below retirement age — Li's last major task was delivering the state of the nation address to the so called parliament on Monday. The report sought to reassure citizens of the resiliency of the Chinese economy, but contained little that was new.
Once seen as a potential top leader, Li was sidelined as Xi gained ever-greater powers and elevated the military and security services in aid of the "great rejuvenation of the Chinese nation." Li's lack of visibility sometimes made it difficult to remember he was technically ranked No. 2 in party.
Li "was a premier largely kept out of the limelight by order of the boss," remarked Steve Tsang, director of the China Institute at the London University School of Oriental and African Studies and a longtime observer of Chinese politics.
In an era where personal loyalty trumps all, the fact that Li wasn't seen purely as a Xi loyalist may end up being "the main reason why he will be remembered fondly," Tsang said.
For most of his career, Li was known as a cautious, capable, and highly intelligent bureaucrat who rose through, and was bound by, a consensus-oriented Communist Party that reflexively stifles dissent.
As governor and then party secretary of the densely populated agricultural province of Henan in the 1990s, Li squelched reporting on an AIDS outbreak tied to illegal blood-buying rings that pooled plasma and reinjected it into donors after removing the blood products, allegedly with the collusion of local officials.
While Li was not in office when the scandal broke, his administration worked to quiet it up, prevented victims from seeking redress and harassed private citizens working on behalf of orphans and others affected.
But Li also cut a modestly different profile, an English speaker from a generation of politicians schooled during a time of greater openness to liberal Western views. Introduced to politics during the chaotic 1966-76 Cultural Revolution, he made it into prestigious Peking University, where he graduated in law and economics, on his own merits rather than through political connections.
After graduation, Li went to work at the Communist Youth League, an organization that grooms university students for party roles, then headed by future president and party leader Hu Jintao. Higher office soon followed.
Among the largely faceless ranks of Chinese bureaucrats, Li managed to show an unusually candid streak. In a U.S. State Department cable released by WikiLeaks, Li is quoted telling diplomats that Chinese economic growth statistics were "man-made," and saying he looked instead to electricity demand, rail cargo traffic, and lending as more accurate indicators.